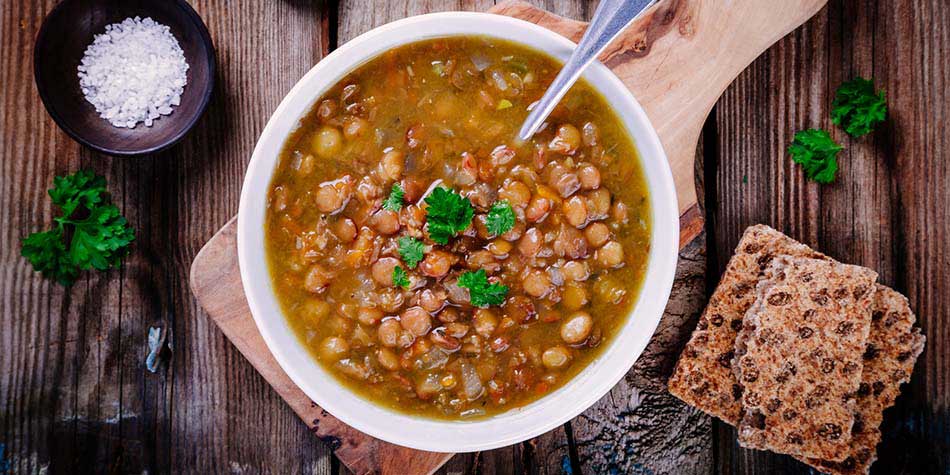 It is officially soup season. I (Anne Brock, West Valley Registered Dietitian) spent the month of October hovering over my crockpot figuring out new soup recipes so for the month of November I have some favorites down pat.
Try this recipe to warm up during the coming winter months. A few hidden bonuses are this recipe is cheap to make, high in fiber and may help you try a few new foods.
Vegetarian lentil soup
Serves 4
Ingredients and preparation
1 tbs olive oil
1 medium onion, chopped
2 celery stalks, sliced
2 medium carrots, diced
2 minced garlic cloves
3 cups (24 oz) vegetable stock or broth
2 cups water
1 cup dried lentils, washed
1 (14.5oz)can reduced-sodium diced tomatoes, undrained
2 tbs finely chopped parsley
1 tsp dried marjoram
1/2 tsp dried thyme
1/2 tsp salt
4 tbs grated Parmesan cheese
Pepper to taste
Directions
Heat olive oil in a heavy pot over medium heat. Add onions, celery, carrots and garlic. Saute for 6-7 minutes.
Add vegetable stock, water, lentils, tomatoes and herbs, and bring to a boil. Reduce heat, cover and simmer until lentils are tender - about 30 minutes.
Add salt and pepper to taste and top with Parmesan cheese to serve.
Nutrition facts
Serving size: half of recipe
Calories: 283
Total fat: 6.5g
Saturated fat: 2 g
Sodium: 996 mg
Total carbohydrates: 37 g
Dietary fiber: 17 g
Protein: 20.5 g