 Caldwell, ID -- Once in a blue moon -- or solar eclipse, as it were -- a baby is born with a "caul," or a portion of the amniotic membrane still covering their head and face. Occurring in only one out of every 80,000 births, many cultures believe this harmless phenomenon to be a lucky omen, and consider the child destined for greatness.
If that's the case, then we should expect especially great things from six-pound Ali Gonzalez, born with a caul at 10:09 a.m. Monday at West Valley Medical Center -- exactly one minute before the solar eclipse began in Caldwell.
"She is very special," agreed mother Elena Garcia of the newest member of her family - her fourth child and third daughter.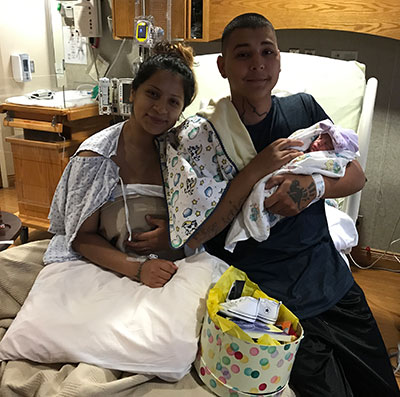 To commemorate the auspicious event, the West Valley Volunteer Auxiliary presented Ali and her parents -- Garcia and Zechiel Gonzalez of Caldwell -- with a certificate and gift basket, including eclipse viewing glasses, a handmade blanket, and other moon- and star-themed baby goods. The Auxiliary had already planned to give a gift to the baby born closest to the eclipse Monday; the rare circumstances around Ali's birth only added to the excitement.
News Related Content