 West Valley Medical Center collected 120.59 pounds of medications during the hospital's second annual "Crush the Crisis" opioid take back event on Saturday, October 24. The event, in partnership with the Caldwell Police Department, aligned with the Drug Enforcement Administration's (DEA) National Prescription Drug Take Back Day. This year's event brought in almost double the amount of medications the first event did in 2019.
"We are grateful our community showed up to help Crush the Crisis today. A significant number of opioid addictions and overdose deaths come from individuals accessing unused opioid prescriptions of family and friends. That's why events like this are so important, not only to provide an opportunity for the community to properly dispose of medications but also to educate," said Betsy Hunsicker, West Valley Chief Executive Officer.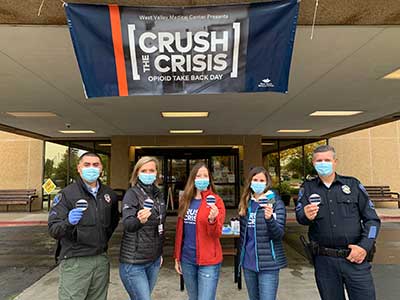 To further help combat the nation's opioid crisis, HCA Healthcare, the parent company of West Valley, proudly partners with and provides clinical insight to the National Academy of Medicine's (NAM) Action Collaborative on Countering the U.S. Opioid Epidemic. HCA Healthcare has committed $500,000 to the Collaborative to support the development of safer pain management protocols and reversal of the opioid crisis.
As a learning health system, HCA Healthcare uses data from approximately 35 million annual patient encounters to help continuously improve care. The organization uses the science of "big data" to reduce opioid misuse and transform pain management, with initiatives in surgical, emergency and other care settings, including:
Enhanced Surgical Recovery (ESR): a multi-modal approach to pain management using pre, intra and post-operative interventions to optimize outcomes. HCA Healthcare's ESR programs have demonstrated significant improvements in surgical recovery and patient satisfaction and, importantly, up to a 50.8% decrease in opioid use in data collected from 124,000 major abdominal, joint, gynecologic oncology, spinal and bariatric surgeries from January 2018 - August 2020.
ALTernatives to Opioids in the Emergency Room (ALTO in the ER): a multi-modal approach to acute pain management, which focuses on alternative medication to hit various pain receptors as a first line treatment for common painful conditions. Initial results of ALTO pilot programs demonstrate a 36% reduction in opioid administrations.
Electronic Prescribing of Controlled Substances (EPCS): aims to stem increasing rates of opioid-related addiction, misuse diversion and death by making it more difficult for medication-seekers to doctor-shop and alter prescriptions. Physicians have access to aggregated electronic health record (EHR) providing data that will allow them to prescribe opioids judiciously.
West Valley has devoted a webpage to help those seeking resources. It also includes more information about what West Valley is doing to help crush the crisis.
News Related Content