At West Valley Medical Center's diagnostic imaging center, timely test results and superior patient care are our standards of practice. Whether you need an annual mammogram or a complex interventional radiology procedure, our imaging specialists and staff offer compassionate, professional care to meet your individual needs.
West Valley's diagnostic imaging center now accepts Saturday appointments. To schedule an appointment, please call (208) 455-3905.
West Valley Medical Center is a Joint Commission Accredited Healthcare Organization. We are also accredited by the American College of Radiology in several imaging modalities.

All imaging procedures are supervised and interpreted by a specialty-appropriate, fellowship-trained, board-certified radiologist. West Valley Medical Center partners with Gem State Radiology, one of Treasure Valley's esteemed physician groups, which specializes in performing and interpreting medical imaging studies.
Visit our Radiation Right® page to learn how we limit patients' exposure to radiation.
Diagnostic imaging services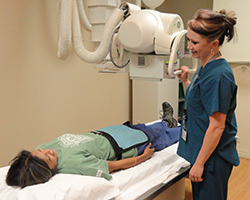 Our imaging department offers a full range of services, including:
General diagnostic X-ray
Fluoroscopy
Computed tomography (CT) scan
Ultrasound
Magnetic resonance imaging (MRI)
Nuclear medicine studies
Mammography
Bone densitometry
Advanced imaging procedures
All of our imaging services are performed and managed in a digital environment. For most routine studies, a completed report is available within a few hours of your exam. Your physician can review those results over a secure internet link as soon as they are available. This substantially decreases the time from diagnosis to treatment of your health concerns.
If your images or results need to be sent to a specialist or an additional physician for consultation, we will gladly accommodate your request while keeping your personal health information private and secure.
Women's imaging services
West Valley Medical Center offers comprehensive women's imaging services at its new Women's Imaging Center, located at:
Family Medical Center (third floor)
315 East Elm Street
Caldwell, ID 83605
For individualized breast care support, please call (208) 455-3842.
To contact the West Valley Women's Imaging Center, please call (208) 455-3905.