At West Valley Medical Center's diagnostic imaging center, timely test results and superior patient care are our standards of practice. Whether you need an annual mammogram or a complex interventional radiology procedure, our imaging specialists and staff offer compassionate, professional care to meet your individual needs.
West Valley's diagnostic imaging center now accepts Saturday appointments. To schedule an appointment, please call (208) 455-3905.
West Valley Medical Center is a Joint Commission Accredited Healthcare Organization. We are also accredited by the American College of Radiology in several imaging modalities.

All imaging procedures are supervised and interpreted by a specialty-appropriate, fellowship-trained, board-certified radiologist. West Valley Medical Center partners with Gem State Radiology, one of Treasure Valley's esteemed physician groups, which specializes in performing and interpreting medical imaging studies.
Visit our Radiation Right® page to learn how we limit patients' exposure to radiation.
Diagnostic imaging services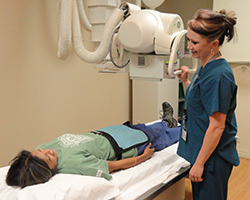 Our imaging department offers a full range of services, including:
General diagnostic X-ray
Fluoroscopy
Computed tomography (CT) scan
Ultrasound
Magnetic resonance imaging (MRI)
Nuclear medicine studies
Mammography
Bone densitometry
Advanced imaging procedures
All of our imaging services are performed and managed in a digital environment. For most routine studies, a completed report is available within a few hours of your exam. Your physician can review those results over a secure internet link as soon as they are available. This substantially decreases the time from diagnosis to treatment of your health concerns.
If your images or results need to be sent to a specialist or an additional physician for consultation, we will gladly accommodate your request while keeping your personal health information private and secure.
Women's imaging services
West Valley Medical Center offers comprehensive women's imaging services at its new Women's Imaging Center, located at:
Family Medical Center (third floor)
315 East Elm Street
Caldwell, ID 83605
For individualized breast care support, please call (208) 455-3842.
To contact the West Valley Women's Imaging Center, please call (208) 455-3905.
Lung cancer screening
Lung cancer is a leading cause of cancer-related death for both men and women worldwide, according to National Institutes of Health. However, a screening can lead to an early lung cancer diagnosis, making the cancer easier to treat.
A lung cancer screening is a test performed to look for the disease before a patient has symptoms. During the screening, a low-dose computed tomography (LDCT) scan uses X-rays from multiple angles to create a two-dimensional image of your lungs. Test results will be sent to your primary care physician, and your physician's office will contact you to discuss the results.
Studies have shown that LDCT lung cancer screening can lower the risk of death from lung cancer by 20 percent in people who are at high-risk for developing the disease.
Medicare and other insurance plans will cover the cost of a lung cancer screening LDCT as part of your annual wellness exam. However, we advise confirming coverage with your insurance provider prior to scheduling the exam.
Eligibility for a low-dose CT lung cancer test
Based on data from a study called the National Lung Screening Trial, the following guidelines were established as a candidate's eligibility for a lung cancer screening:
55 to 74 years old
Current smoker or quit smoking less than 15 years ago
Smoking history of 30-pack years (one pack-year is equal to smoking one pack a day for one year)
Asymptomatic (no signs or symptoms of illness)
About 25 percent of people who receive a LDCT lung cancer screening will be found to have small spots in their lungs, called lung nodules. Only about three to four percent of these nodules are cancerous—the others are scars. There is no way to tell if nodules are scars or cancer without further testing. A series of LDCT scans will usually be performed over time to observe growth in the lung nodules. If a nodule grows large enough, you may need a biopsy.
Because of non-cancerous nodules often found in the lungs, many patients who receive additional testing will not be found to have cancer. The screening uses a very small dose of radiation (five times less than a standard chest CT scan) to produce images of your lungs. Although the effects of this low-dose radiation are not known, the benefits of cancer detection are thought to outweigh any consequences.
Schedule a LDCT lung cancer screening
Contact your primary care provider to discuss the risks and eligibility for a lung cancer screening to see if the test is right for you. If you and your provider agree you are a good candidate for LDCT, your provider must order the screening for you.
Appointments are available Monday through Friday between 8:00 a.m. and 4:00 p.m.
All LDCT exams are performed at our outpatient imaging center located at:
West Valley Medical Complex
1906 Fairview Ave., Suite 140
Caldwell, ID 83605