It's hard to believe another year has come and gone. As everyone does this time of year, we too look back on all that we've achieved as a family in pursuit of our mission: Above all else, we are committed to the care and improvement of human life. In recognition of this commitment, we strive to deliver high-quality, cost-effective healthcare to the communities we serve.
Eclipse Fever!
The Great American Eclipse drew visitors from across the country to southwest Idaho. West Valley gained national attention that day for a baby girl, Ali, born just one minute before the eclipse with a rare caul, or portion of the amniotic sac still covering her head and face. This lucky omen occurs in only one out of every 80,000 births.
Tracee Joins the Family
In May, we welcomed our new Chief Nursing Officer Tracee Hendershott. Tracee came to West Valley from Rose Medical Center in Denver, where she served as associate chief nursing officer, director of Women's and Children's Services, and a labor and delivery nurse leader. She is a graduate of the HCA Continental Division's Nurse Leadership Development Program. Tracee earned her bachelor of science in nursing from the University of North Colorado and a master of health administration from Webster University's Denver campus.
Hurricanes of Hope
When the hospital staff heard that their HCA family in Florida and Texas were suffering in the wake of recent hurricanes, they knew they had to act. An extreme charity challenge for the HCA Hope Fund was devised, in which each administrator pledged to perform a stunt. The winner by a landslide was CFO Geoff Hill, who had the West Valley logo shaved into his hair in the hospital lobby on Halloween. In total, the drive raised $2,400 for the HCA Hope Fund.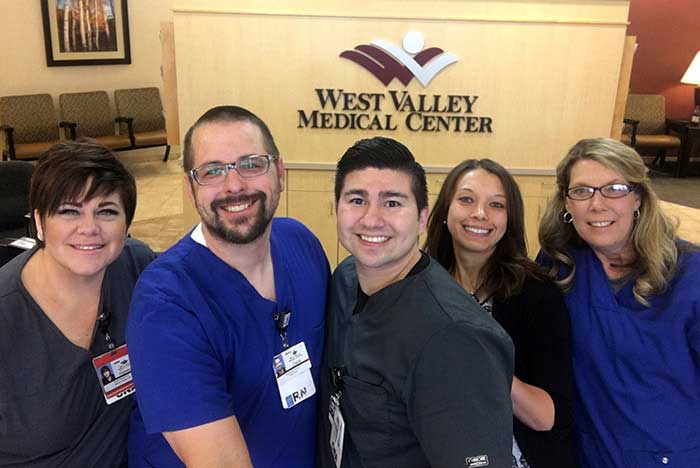 In addition, seven West Valley nurses and techs traveled to Texas and Florida to provide hands-on patient care to those affected by the storms. Thank you to Rebecca, Megan, Israel, Liane, Amanda, and Dave! About 90 West Valley staff volunteered to serve their HCA colleagues in this time of crisis - we couldn't be prouder of our West Valley family and their generous spirit!
Keeping Families Together
We opened Caldwell's first neonatal intensive care unit (NICU), allowing our maternity staff and physicians to care for preterm infants who previously would have been transferred to Boise facilities. The $1 million project renovated 1,985 square feet of the existing Family Maternity Center to create a level II special care nursery. Features of the new space include a triage room, isolation area, and lactation room where mothers can store breast milk for their infants.
High-Quality Recognition
A number of national organizations once again recognized the efforts of our dedicated physicians and staff, including:
Truven Health Analytics: 100 Top Hospitals (2014-17)
Healthgrades: Patient Safety Excellence Award (2017); Gastrointestinal Care Excellence Award (2017-18); 5-star designation for total knee replacement (2015-18), treatment of sepsis (2016-18), treatment of respiratory failure (2017-18), treatment of gastrointestinal bleed (2018), and gall bladder removal (2018)
The Leapfrog Group: Grade "A" in biannual Hospital Safety Grades review (Fall 2014 - Fall 2017)
Modern Healthcare: Best Places to Work in Healthcare
Becker's Hospital Review: 100 Great Community Hospitals (2016-17)
Award-winning Staff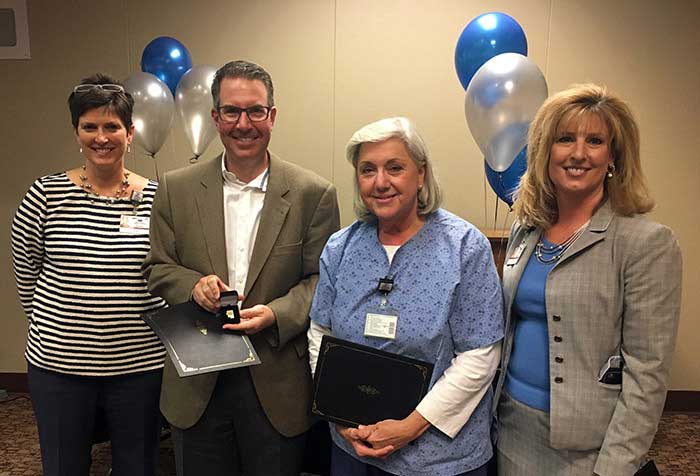 Each year, our parent company awards employees whose innovative ideas help us provide higher quality, more cost-effective patient care. Our staff - including physician liaison Fred Webster and our OR team -- won the top prize nationally for devising a program to improve communication between the hospital, physician offices, and patients prior to surgical procedures. Great job, team!
Meanwhile, Dr. Larry Banta was recognized as a national finalist for the Frist Humanitarian Award in honor of his years of work with orphans around the world. We are so fortunate to have caring, compassionate providers like Dr. Banta here at West Valley.
Our Community
We joined our friends and neighbors at many of Caldwell's beloved events in 2017, including the Canyon County Relay for Life, Canyon County Fair, Buckaroo Breakfast, Caldwell Night Rodeo, Compassion Caldwell Clinic, Indian Creek Festival, Yotes Football, Winter Wonderland, and Treasure Valley Night Light Parade.
Our staff also demonstrated their amazing generosity, helping raise $16,000 for the Caldwell Family YMCA at the annual West Valley 5K/10K. In addition to the $2,400 raised during the hurricane drive, West Valley employees gave $27,000 in payroll deductions to the HCA Hope Fund. The hospital also lent financial support to the The Salvation Army - Caldwell Corps in November for their food pantry, and staff gathered more than 700 baby care items for local parents enrolled in the Caldwell Corps' Baby Haven program.
Building the Future
Phase 2 of our surgery construction project, slated for completion in 2018, is under way! This project is a renovation and expansion of the surgical department by adding additional OR space and support area, bringing the total number of operating rooms to six. The total investment is estimated to be more than $8 million.
Construction is also under way for our new endovascular lab! This third lab will complement our existing interventional and diagnostic catheterization labs by providing a specialized space for diagnosis and treatment of peripheral vascular disorders. What does this mean for our patients? Simply put: more services, closer to home. Completion of this new space is anticipated by summer 2018!
Thank You
Lastly, we want to thank our patients and families for entrusting us with your care. We truly are a family at West Valley; we strive to treat everyone we meet with the same kindness and genuine, caring attention we would our own loved ones. This means we promise to keep you safe, comfortable, and informed. Thank you for allowing us to collaborate with you for a healthier tomorrow.