The New York Post is calling football America's new pastime a putting baseball fully in the rearview mirror.
A 2014 Harris poll showed the National Football League (NFL) to be the most popular US sports league for the 30th consecutive year, and according to a February 2014 report in Forbes, last year's Super Bowl between the Denver Broncos and the Seattle Seahawks was the most-watched television event in US history.
However, the past decade has seen troubling information come out of various science journals revealing a particular danger with playing football &h2; severe head injuries.
The Brewings of a Cover Up
A November 2014 New York Times article covers attorney Jason Luckasevic's defense of his friend, Bennet Omalu, a forensic pathologist in the Allegheny County Pennsylvania medical examiner's office.
The NFL attacked Omalu after he identified chronic traumatic encephalopathy (CTE), a deterioration of the brain, during autopsies of several former players. He claimed that football caused irreversible brain damage.
Eventually, his defense of Omalu led to a lawsuit against the NFL on behalf of 75 former players. They charged the NFL with "a scheme of fraud and deceit" by neglecting to warn players of the dangers of suffering a concussion while playing football.
The Storm Warning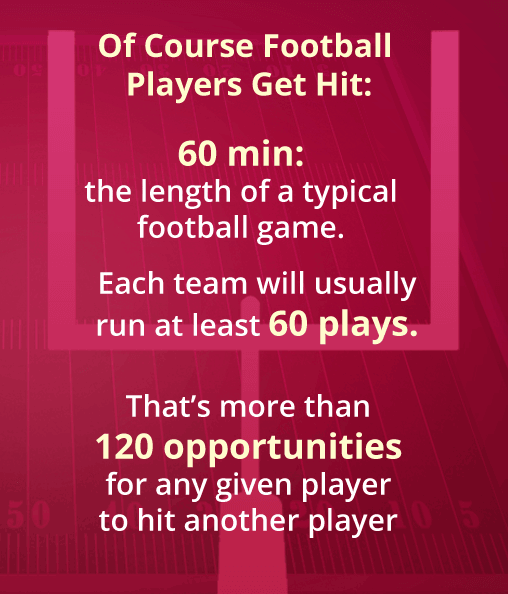 Of Course Football Players Get Hit:
60 min: the length of a typical football game. Each team will usually run at least 60 plays. That's more than 120 opportunities for any given player to hit another player.
The link between concussions, which yield temporary symptoms, and CTE, which is long-term brain damage, is not yet clear, according to a January 2011 study in the journal Clinics in Sports Medicine.
Former players involved in a September 2014 Sports Health study reported an average of six concussions throughout their careers. That's an alarming number given that the American Association of Neurological Surgeons (AANS) states that any concussion after the first one doesn't have to be strong to be deadly or disabling.
Meanwhile, an August 2013 study in the Archives of Clinical Neuropsychology compared depression symptoms in former football players with a group who did not play football. They found that symptoms of depression &h2; prolonged sadness, guilt, and self-criticism &h2; were significantly higher among the football players than among those who didn't play. They concluded that this was associated with a history of multiple concussions.
Concussions Aren't Exclusive to NFL Players
As you're reading this, you may be wondering why this matters, especially if the school or intramural football player in your family has slim chances of going pro.
As it turns out, there were more than 25,000 emergency department visits in the US between 2001 and 2009 for "traumatic brain injuries" from playing football. These were middle school, high school, college and maybe intramural players, according to a 2011 report by the US Centers for Disease Control and Prevention (CDC).
Caring for Concussion Victims
It is key that enough time is allowed for recovery, and proper medical care is given to someone displaying symptoms of a concussion. Because the symptoms of a concussion can be delayed, talk to the doctor even if you're not sure.
Although concussions may be most associated in popular culture with extremely physical sports, such as football or hockey, they can occur in any type of physical activity following an abrupt blow to the head.
If you notice any of the mentioned symptoms, keep the following tips in mind:
How to Recover From a Concussion
Avoid television, computers, and physical exercise until your doctor says it's okay.
When your doctor gives the green light, start a routine of light aerobics and gradually increase the intensity, until you're able to handle football-specific activities.
Visit your doctor for neurological tests as needed.
Avoid alcohol, which can impair your recovery.
Source: US Centers for Disease Control and Prevention