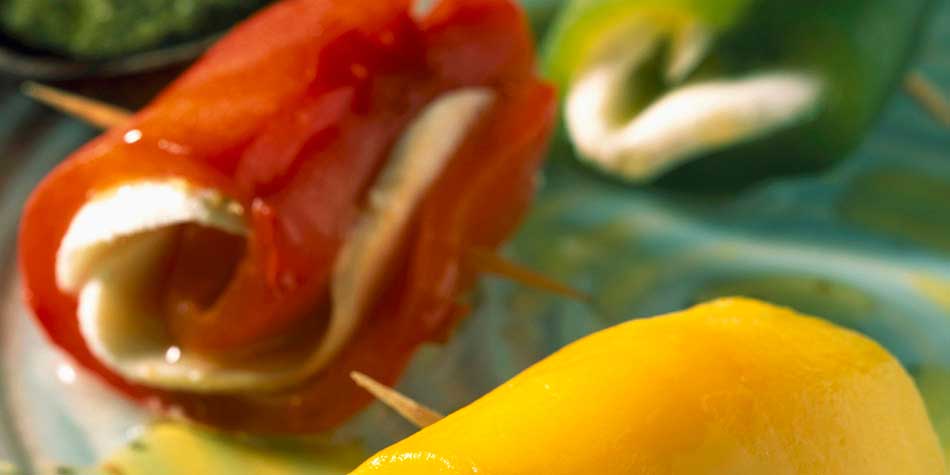 Need a healthier side dish to take to the company holiday potluck? Get a fruit and vegetable serving in with these Red Pepper Rolls that are easy to make and loaded with that sweet and savory flavor we love.
Red pepper rolls
Servings: 8
Ingredients and preparation
6 red bell peppers
2 diced peaches
6 tbs fat-free cream cheese
10 julienned fresh basil leaves
1 tsp salt
1/8 tsp ground black pepper
1 tbs olive oil
24 toothpicks
Directions
Roast red peppers over an open flame until skin blisters, then remove skin. Cut the peppers in half and remove the seeds and stem. Cut each half into three long strips.
In a bowl, combine the peaches, cream cheese and basil. Mix well.
Place peppers flat, skin side down, then put 1/2 teaspoon of peach mixture on one end of each pepper slice. Roll up the pepper, so the peach mixture will be in the center.
Brush the rolled peppers with olive oil and add salt and pepper to taste. Use a toothpick to hold each roll together.
Nutrition facts
Serving size: 3 rolls
Calories: 135
Calories from fat: 90
Total fat: 11 g
Saturated fat5 g
Cholesterol: 15 mg
Sodium: 180 mg
Total carbohydrates: 6 g
Dietary fiber: 0 g
Sugars: 0 g
Proteins: 6 g
Vitamin A: 30% DV
Vitamin C: 270% DV
Calcium: 6% DV
Iron: 6% DV
Percent Daily Values (DV) are based on a 2,000 calorie diet.